River Running Kayaks For Sale
Kayaks for White Water Rivers
Premium Specification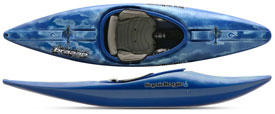 The Braaap's hull is derived from modern slalom boat design which gives crisp feedback to paddlers zipping in and out of eddies and while changing direction mid-current. The responsive hull, the ease of rolling and the Braaap's light weight create an excellent learning platform for novice paddlers while the speed and agility of the Braaap provide experienced boaters with downriver tactical controls.
White water kayak designed for river play, surfing and general purpose paddling. 
Contour Ergo adjustable backrest
Contour Ergo Play Seat
Precision adjustable thigh braces
Security grab handles
Ratchet adjustable backband
Adjustable bulkhead footbrace with foam padding
A fast creeker hull design with lots of bow rocker and a wider tail for great speed when negotiating obstacles and big water! Equipped with CORE WhiteOut outfitting.
CORE Creek Seat – Roto Moulded Tank Style
Safety Step-Out Wall – with Easy-Grip Handle
CORE Leg Lifter Control with 7.5cm of elevation
Ratchet Adjustable Backband
Multi-part Adjustable Thigh Braces
Multi-Adjustable WhiteOut Hip Pads
Bulkhead Foot Brace System – with Foam Padding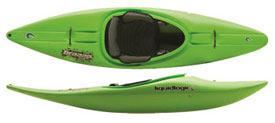 The Party Braaap has the exact same hull and bow design as the Braaap. The difference is that Liquidlogic have sucked 2.5 gallons of volume out of the stern deck making it concave. That significant drop in volume makes the PB a stern squirting, wall splatting, surfing machine while still being a pinpoint accurate river runner.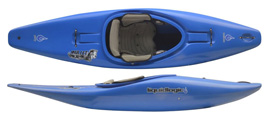 The Mullet is all business up front with plenty of rocker, and volume in the bow to boof, ender, and surge up and over obstructions, which also means plenty of foot room for you big old boys. The low volume stern says ready to party!
Runs rapids like a fast creekboat with a hull that will also spin on green waves.
CORE WhiteOut Seat System
CORE Ratchet Leg Lifter
Easy Adjust on-the-fly Seat
Forward Ratchet Backband
Adjustable Padded Thigh Braces
Removable Outer Thigh Hooks
Contoured Hip Pads
Bulkhead Foot Brace Brace System
Crossover kayak that can handle river runs and touring lakes.
Auto-Adjusting Bulkhead Footbrace with Foam Padding
Tru Trak Skeg System
Hinged Comfort Carry Hip Pads
Adjustable, Padded Trekking Thigh Brace
Rotomoulded Play Seat with Adjustable Ratcheting Leg Lifter
CORE WhiteOut Outfitting System
Forward Ratcheting Backband
Standard Specification
The Riot Thunder is an all-out river running machine. If you are looking for a kayak which enables you to paddle sections of white water with confidence.
The Diesel runs rapids like a fast creekboat and with a planning hull and continues rocker it still makes it playful and nimble enough for surfing standing waves
BlackOut Seat System
Forward Ratchet Backband
Adjustable Thigh Braces
Bulkhead Footrest
General purpose white water paddling kayaks.
Fixed ergonomic seat
Fixed thighbraces
Adjustable backband
Security grab handles
Bulkhead footbrace system
The Axiom lives for tail squirts, tight eddies and tearing up the waves that shorter boats simply float past.. 
Fixed ergonomic seat
Contour Lite seat pad
Gear loops
Hip pad ready
Contour Lite backrest
Thighbrace mounted double ratchet adjustment
Adjustable thighbrace
full plate bulkhead footbrace
Fusing together a river running kayak and a playboat to make a true all-rounder!
BlackOut Outfitting
Ratchet Adjustable Backband
Adjustable Thigh Braces
Padded Foam Foot Brace
Security Grab Points
General purpose paddling kayak that is able to tour along flat water and tackle white water.
Soft-grip carry handles
Easy empty drain plug
Rear deck elastic
Rescue/security bar
Spring loaded skeg system
River Cruiser Outfitting
Oval storage hatch with bulkhead