Hobie Kayak Fishing Equipment
Kayak Fishing Equipment by Hobie Kayaks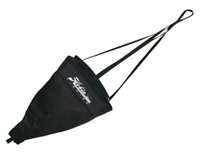 Hobie Drift Chute
The Hobie Drift Chute is a large cone shaped "para" chute deployed in the water slows your drift in windy conditions when anchoring is not possible or desired.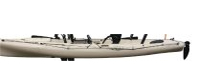 Hobie Anchor Trolley System
Easily deploy your anchor or drift chute over the side of your kayak using Hobie Anchor trolley system.
Control the position of your kayak by moving the attachment position forward or back. Simple pulley system and cleat allows adjustment all along one side of your boat anywhere from bow to stern.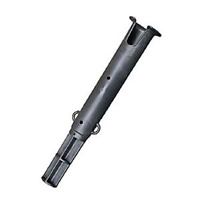 Hobie Fishing Rod Holder Extention
Raise the height of which your rod sits on your Hobie kayak. Ideal for keeping your reel out of the water on rods that tend to sit a little too low.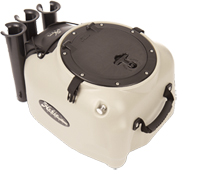 Hobie Livewell
The Hobie Livewell is an eight-gallon, live bait tank custom designed with the serious angler in mind. Simply charge the included battery and you're ready to go.
Hobie has included three rod holders with the option of adding an additional two—for a total of five rod holders—making the Livewell one of the most functional pieces of fishing equipment you'll ever own.
Water intake and discharge tubes fit right into the existing cargo area scuppers. With the capability of holding up to eight gallons of water this tank can handle almost anything you might throw at it.
Call Us For Price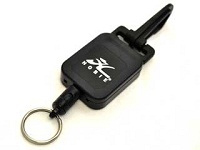 Hobie Gear Keeper
Keep your equipment where you left it; safe and onboard with the Hobie Gear Keepers. These low force retractor tools are ideal for gear such as pliers, fish grips,camera, knife etc.
Available in two sizes:
Small - 36" 50lbs Breaking Strength Spectra Nylon Line
Large - 36" 60 lbs Breaking Strength Nylon Coated Stainless Steel Cable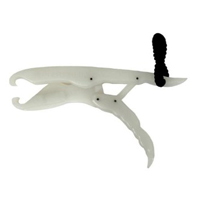 Hobie Fish Grips
The Hobie Fish Grips feature a flat surface on the jaws to help prevent the puncture of thin tissue of the mouth of the fish. Lip bone of the fish rolls to either side of the point of the jaws of the Fish Grip securing your catch. Made from glow-in-the-dark plastic for visibility in low light conditions.