Inflatable Canoes & Kayaks
Gumotex use HTP Nitrilon fabrics in their kayaks which is a lighter version of the fabric used in RIBs Rigid Inflatable Boats, the type used by the RNLI and divers. The Nitrilon material allows them the dry quicker and pack away a lot smaller for storage than other brands. This is simply the best fabric used for recreational paddling only the military use a heavier fabric.
Gumotex Solo Inflatable Kayaks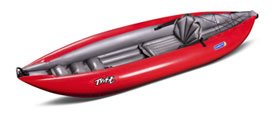 A great all-round solo inflatable kayak for paddling in calm water conditions on inland waters or sheltered coatsal estuaries and bays.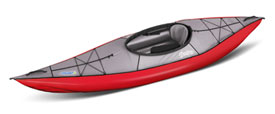 A lightweight closed cockpit style kayak that is easy to maneovure with plenty of stability. Great for gentle day touring in calm waters.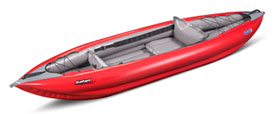 The Safari has a self draining deck which makes it suitable for paddling on white water rivers and in small surf at the beach. Comes with thigh straps for additional control.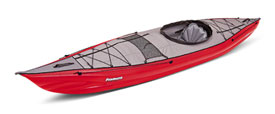 The fastest kayak in the Gumotex range. Great for toruing and exploring. Closed cockpit desighn with plenty of storage room.
Gumotex 2 & 3 Person Inflatable Kayaks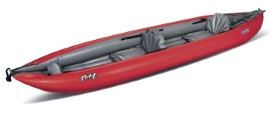 Tandem version of the popular Gumotex Twist 1. A versatile all-round inflatable kayak for 2 adults, an adult and a child and now offers a solo paddling seat configuration too..

The 2+1 seater Thaya inflatable provides a versatile kayak for multi day trips with a great load capacity.

The 3 seater Solar inflatable provides a versatile kayak for multi day trips with a great load capacity.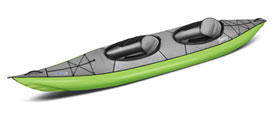 A stable cockpit style inflatable kayak. Great for touring and exploring on lakes, slow rivers, canals and sheltered estuaries and bays.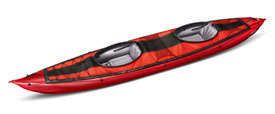 The most suitable model in the range for touring on the sea. The Seawave paddles fast and efficiently thanks to its long and narrow hull. Can be paddled by 3, 2 or 1 people
Gumotex Inflatable Canoes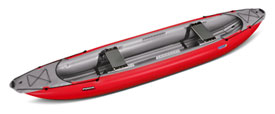 Inflatable tandem canoe with high seating. Can be paddled seated or kneeling with the help of included knee straps. Suitable for touring and rivers up to grade 2 white water.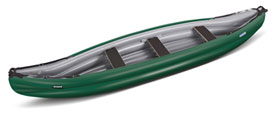 An inflatable canoe with plenty of storage space. Great for day tripping or multi day camping trips. Can seat up to 3 people.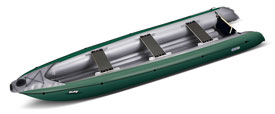 Inflatable 3 person canoe with a transom mount for attaching an outboard motor.
Gumotex Inflatable Fishing Kayaks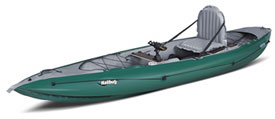 A stable inflatable kayak designed for fishing. Suitable for very calm waters such as lakes, slow rivers and canals. High seat design with solid floor for standing.
Gumotex Inflatable Fishing Boats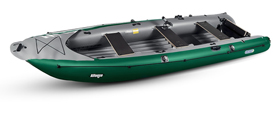 An inflatable fishing boat best suited for two anglers, but could take 3. Wide stable design, with rigid transom for a motor (Max 2.6KW / 3.5HP) if required. Features high seats and rod holders.