Wavesport Ethos 9 & 10
Crossover Kayak
The Wavesport Ethos 9 & 10 are general purpose paddling kayaks that are able to tour along flat water and tackle white water.
Ethos 9 & 10 Core WhiteOut:
£949.00
Ethos 9 & 10 WhiteOut:
£749.00
Details
Features
Dimensions
Colours
Delivery
Wavesport Ethos
If you want a fast boat which can tackle flat water and white water expeditions look no further.
The Ethos provides a stable, forgiving, and confidence inspiring crossover which can navigate easy white water while tracking well on the flat and choppy waters of the sea. This makes it an ideal crossover that's well suited to paddling on slow moving rivers, canals, harbours and light costal conditions.
Designed for the flat water tourer and low grade white water adventure in mind. The hull and edges mean it will carve into turns enabling greater control and performance while the added length over the normal river runner provides increased speed which along with rocker allows you to push through waves and rapids in your way.
The Ethos comes with a Full sized adjustable foot plate meaning that control on white water paddles isn't a problem, you can paddle with confidence with the fully adjustable backrest, Low-Profile Thigh Braces keeping you connected with the boat improving handling and comfort. When it comes to covering distance the straight line tracking of the TruTrak Skeg means that beginners are able to stay straight with ease and means you are able to save energy on adjusting your direction enabling you to power on throughout the day.
Available in both 'Core WhiteOut' and 'WhiteOut' outfitting you can chose a spec which is right for your own personal paddling. With 'WhiteOut' offering a comfortable 'WhiteOut' padded seat, forward ratcheting back band and adjustable seat and thigh braces. The 'Core WhiteOut' upgrades including a ratcheting leg lifter offering 7.5cm of elevation for added adjustability, easier access to storage space behind the seat and multiple attachment points, security tethers for securing gear and finally including hip pads which adapt into a shoulder pad whilst carrying the boat to provide extra comfort.
The roomy cockpit along with stern storage and bulkhead means that you can carry everything you will need while exploring or on a multi-day expedition. Soft Grip Grab Handle and outfitting adjustment, means that comfort while portaging and paddling is not an issue.
To read our full review of the Wavesport Ethos Click Here.
Features
WhiteOut Spec:
Soft-grip carry handles
Easy empty drain plug
Adjustable Full Plate Footrest
Rear deck elastic
Rescue/security bar
Spring loaded skeg system
Adjustable rachet backband
Oval storage hatch with bulkhead
Core WW Spec:
2 Soft Grip Security Grab Handles
1 Security Grab Handle
Auto-Adjusting Bulkhead Footbrace with Foam Padding
Tru Trak Skeg System
Hinged Comfort Carry Hip Pads
Adjustable, Padded Trekking Thigh Brace
Quick Fore/Aft Seat Adjustment
Rotomoulded Play Seat with Adjustable Ratcheting Leg Lifter
CORE WhiteOut Outfitting System
Forward Ratcheting Backband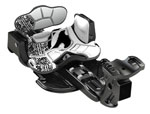 Click to enlarge
Dimensions
Ethos 9:
Length: 9'7" / 291cm
Width: 28" / 65cm
Deck Height: 13'5" / 34cm
Cockpit: 36" x 20.5" / 92cm x 52cm
Volume: 80 gal / 303 L

Manufacturers Weight Capacity: 90 - 200lbs / 41 - 91 kg.

Optimum weight capacity may differ - please contact us if you are unsure about the suitability of the Wavesport Ethos for your weight
Ethos 10:
Length: 10'3" / 312cm
Width: 27" / 68.5cm
Deck Height: 15'25" / 39cm
Cockpit: 36" x 20.5" / 92cm x 52cm
Volume: 100 gal / 379 L

Manufacturers Weight Capacity: 150-260lbs / 68-118 kg.

Optimum weight capacity may differ - please contact us if you are unsure about the suitability of the Wavesport Ethos for your weight

.
Kayaks & Canoes
We offer a delivery service for kayaks & canoes covering many areas of mainland UK using our own vans. Due to current restrictions within the UK courier network, we are unable to ship kayaks & canoes via nationwide courier (kayak/canoe deliveries to some areas of the UK are currently unavailable).
If you require delivery, please contact us with your address and we can advise whether a delivery service is available.
Equipment, Accessories, Inflatables & SUPs
Delivery is available for these products throughout the UK & Ireland. The price for delivery will be shown in the website basket prior to checkout.
Click & Collect - Stores Nationwide
We also offer a collect from store service. Collection for orders placed online can be made from any of our Canoe Shops UK Stores. For full details on our Click & Collect service, please see: Nationwide Click & Collect
Please call us on 02380 861341 if you have any questions about the Wavesport Ethos