White Water Rescue Equipment
Equipment for white water kayaking.
Palm Wire Gate Karabiner
Anodised alloy wire gate karabiner with a 35mm gate opening. This Karabiner has a maximum breaking strength of 22kN (major axis) and 8 kN (minor axis)' 7 kN.
The Wide 35mm opening will fit over most paddle shafts.
Anodised aluminium
Weight: 76 g
Maximum breaking strength 22 kN (major axis)' 8 kN (minor axis)' 7 kN (open gate)
EN362:2004/B certified
UIAA approved
Gate opening 35 mm
Palm HMS Screw Grate Karabiner
The Palm HMS Screw Gate Karabiner has a clean nose closure and a 23mm opening. It is made from quality aluminium and has a red anodised finish.
It has a maximum breaking strength of 24 kN (major axis)' 7 kN (minor axis)' 7 kN (open gate)
Anodised aluminium
Weight: 68 g
Maximum breaking strength 24 kN (major axis)' 7 kN (minor axis)' 7 kN (open gate)
EN122275:1998/BandK and EN362:2004/B certified
UIAA approved
Screw gate opening
Gate opening 23 mm
Clean nose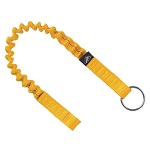 Palm Cowtail One
The Palm Cow Tail One is a great way to secure a runaway boat or for use in other rescue scenarios. The elasticated core 25mm webbing enables you to easily extent the webbing up to 75cm to your desired attachment point. The Cow Tail One has an intergraded stainless steel O-ring allowing you to easily attach it to your PDF quick release system.
Integral stainless steel O-ring for PFD harness attachment
High visibility colour
Webbing extends to 75 cm
Bartack stitched
Neoprene grip reduces karabiner slip
Recommended for use with Screw Gate karabiners
75 cm (extended length)
5 kN breaking strength
25 mm tubular tape webbing with elasticated core

Palm Chest Harness
38mm Chest harness with quick release buckle for Palm buoyancy aids. The O-ring provided offers a quick and easy to use attachment point for the use of a 'Cow Tail' or another piece of safety equipment. The harness is reversible allowing for left or right-handed operation on a variety of Palm's whitewater PFD range.
Fixlock quick-release buckle with toggle
Aluminium load spreader
Triglide for secure PFD attachment
O-ring included
38 mm nylon webbing
Compatible with Palm Extrem' women's Extrem' Luna' Amp and FXr.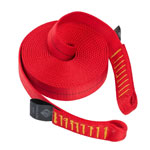 Palm Snake Sling
The Palm Snake Sling is a versatile rope that can be used to do the job of prussik' towing sling or anchor to name a few.
The Snake Sling is made from strong tubular nylon webbing and is 4m in length.
25 mm tubular nylon tape
Weight: 184 g
10 kN static breaking strength
4 m length
Tubular tape with karabiner loops on both ends  
High visibility colour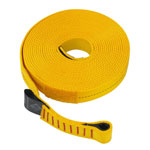 Palm Safety Tape
5 m safety tape that can fit neatly in the front pocket of your PFD. It is useful for many things' it can be used as a sling or short throwline. With Velcro fastening to keep it in a tidy coil.
25 mm tubular Nylon tape
Weight: 234 g
10 kN static breaking strength
5 m length
Open-ended tubular tape
Velcro fastening
High visibility colour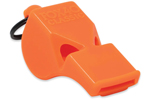 Fox 40 Whistle
The Fox 40 whistle has a patented three-chamber design and no moving parts. This enables its sound to be heard well above man-made and environmental noise to attract attention in emergency situations.
Injection molded plastic
Weight: 23 g
Patented 3-chamber design
Pealess' faultless performance
Penetrating 115 decibels
Lanyard for attachment
Palm Whitewater Pulley
The Palm Whitewater Pulley is an anodised aluminium pulley ideal for rescue and rope system use. The swing side opening enables for quick and easy use. The maximum 20kn working load strength means that you can confidently use the pulley in a rescue situation.
This is an essential piece of kit for any pin kit or rope rescue kit.
Material - Anodised aluminium

Weight - 88g

Maximum breaking strength 20 kN (10 kN in both directions)

Swing sided opening

Max rope Ø 11 mm