Dagger Axis 10.5 Touring Kayak
10ft Recreational Touring Kayak
A stable and easy to paddle touring kayak designed for flat water paddling in sheltered conditions.
£675.00 (RRP £750.00 - Saving £75.00)
Details
Features
Dimensions
Colours
Accessories
Delivery
Dagger Axis 10.5 Elite
The Dagger Axis 10.5 is a stable touring kayak with the hull designed slightly wider around the seat giving paddlers extra confidence to hone their skills. The Axis has a good waterline for directional stability but its rock hull makes it easy to turn too.
The Dagger Axis is suitable for coastal exploration, through lake cruising, to the challenge of a running river.
A rear storage hatch and bulkhead allow plenty of room for all the essentials when considering a trip out for a long day.
Features
CFS-R Seating System with leg lifter and height adjustable back band.
Thigh Braces.
Slidelock footbrace system.
Bow deck rigging.
Soft touch handles.
Stern bulkhead.
TruTrak adjustable skeg system
Dimensions
Length: 10' 6" / 320 cm

Width: 28.5" / 72 cm

Manufacturers Weight Capacity: 300 lbs / 136 kg

Optimum weight capacity may differ - please contact us if you are unsure about the suitability of the Dagger Axis 10.5 Elite for your weight

Cockpit Length: 38" / 97 cm

Cockpit Width: 21" / 53 cm

Weight: 50 lbs / 23 kg
Recommended Accessories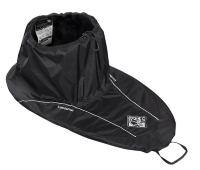 Palm Coniston Nylon Spraydeck
Adjustable nylon spraydeck to keep the splashes out of the cockpit. Universal waist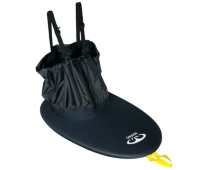 Manic Tour Neoprene Combi Spraydeck
Neoprene combi spraydeck - universal waist with adjustable braces.
Tighter to fit and remove compared with a nylon spraydeck.
Price £59.95 (RRP £64.95 - Saving £5.00)

Feelfree Day Tour Paddle - Fibre glass Shaft
The Feelfree Day Tour Paddle with fibre glass shaft is lighter than the alloy version which reduces fatigue on longer paddling trips.
Please call us a call on 02380 861341 if you have any questions about the Dagger Axis 10.5 Elite