Hobie Tandem Island
Tandem Trimaran Kayak
Tandem version of the Adventure Island for two people to enjoy sailing, pedalling or paddling together!
Details
Features
Dimensions
Colours
Accessories
Delivery
Hobie Tandem Island
The Hobie Tandem Island brings all the features and benefits of the Adventure Island in a package for two people so they can enjoy sailing and touring coastlines together. The Tandem Island Provides excellent on water performance with the versatility for several differing kayak disciplines in one top of the range package.
The Tandem Island is a sleek, stable , two-person kayak that glides over the water with ease. However, attaching the aka crossbeams, the ama floats and the two-piece carbon fibre rig sailing kit, then you and your partner can be sailing over the water, powered by the boomless mainsail. Both cockpits have steering and sail-control lines, making the Tandem Island ideal for partners of all abilities. Include the boat's generous storage space and large carrying capacity means that the potential for longer days on the water or multi-day trips become a distinct possibility.
Features
All Lines and Hardware Plus Harken Blocks

Deck-Mounted Crossbars

Dual Rudder Deploy and Retract Controls in Front and Rear Cockpits

Dual Steering

Easily Retractable and Removable Amas

Four Cup Holders

Four Mesh Stowage Pockets

Fully-Retractable, Kick-Up Centerboard

Kick-up Centerboard

Kick-up Island Rudder

Large Bow Hatch

Lowrance® Ready

Patented Roller-Furling Sail with Battens

Rear Cargo Area with Bungee®Tie-Downs

Roller-Furling Main Sail

Steering Controls in Front and Rear Cockpits

Three 8" Twist and Seal Hatches

Two 2-Piece paddles with On-Aka Storage

Mirage Drive 180 x2

Two Molded-In Rod Holders

Two-Piece Carbon Composite Mast

Vantage CT Seating
Mirage Drive 180 System
Vantage Seating
Lowrance Ready System
Dimensions
Length: 5.64 m / 18' 6"

Width: 0.76 m / 30"

Height (Akas Off): 0.39 m / 15.5"

Height (Akas On): 0.43 m / 17"

Beam (Amas Folded In): 1.22 m / 4'

Beam (Amas Out): 3.05 m / 10'

Fitted Hull Weight: 58.51 kg / 129 lbs

Fully Rigged Weight: 89.81 kg / 198 lbs

Mast Length: 5.49 m / 18'

Sail Area: 8.4 m² / 90 ft²

Manufacturers Weight Capacity: 272 kg / 600 lbs

Optimum weight capacity may differ - please contact us if you are unsure about the suitability of the Hobie Tandem Island for your weight
Recommended Accessories

Hobie Trax Trolley
Features 24 cm (blow-molded polyurethane) pneumatic tires. These tires have a high capacity and are very durable! This is the best all around cart for soft sand and uneven terrain. The tires are wide and can be deflated for better performance over softer sand and soil.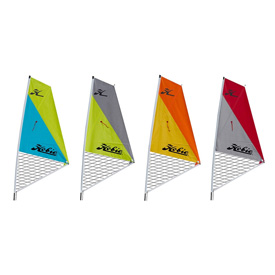 Hobie Sail Kit
Add sail power to Hobie Mirage Kayaks! (Fits all current models of Hobie Mirage Kayaks). Sail with ease maintaining excellent speed with or without pedaling while sailing. Easily pedal out to sail or pedal home when the wind is too light.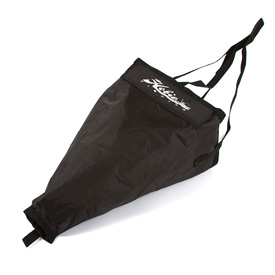 Hobie Drift Chute
Large cone shaped "para" chute deployed in the water slows your drift in windy conditions when anchoring is not possible or desired. Design keeps chute just under the surface and fully inflated. Anchor line not included. (Connect to the Hobie Anchor Trolley System for best results).
Delivery
Collection from store only.
Please contact us on 023 8086 1341to discuss delivery options.
Please call us on 02380 861341 if you have any questions about the Hobie Tandem Island