Hobie Pro Angler 14
Stable 14FT Fishing Kayak
The Hobie Pro Angler 14 has a super stable fishing platform for days out on the lake or along the coast.
2019 Model: Call Us For Price
2019 Camo Edition: Call Us For Price
Details
Features
Dimensions
Colours
Accessories
Delivery
Hobie Pro Angler 14
The Hobie Pro Angler 14 is built to be the ultimate fishing kayak. Many other kayaks in the Hobie range have fishing rod holders but the Pro Angler 14 is a dedicated fishing machine.  Every feature is designed to maximise your fishing and enjoyment.
The deck area is packed with every feature you could ever want for on a fishing trip, and as expected from Hobie, retractable rudder controls, storage spaces, work area and drinks holder are all at your fingertips.
The Pro Angler 14 comes with Hobie's 3 position Vantage seating – One position with a low centre of gravity for maximum paddling efficiency on your way to your favourite fishing spot, a raised position for comfort when waiting for a bite and a stand up "Attack" position for casting out your line or for reeling in a big catch.
The Hobie Pro Angler naturally comes with the patented Mirage Drive system which gives you the option to either paddle or pedal the kayak to your favourite fishing spot in a near silent fashion. Alternatively it also means you can fish while you cruise, never needing to stop except to haul in that big fish.
Features
Repositioned Thru-Hull wire plugs for easier access

260cm paddle, T-handle still included

Padeye XL

3-way connector for Lowrance Ready, Thru-Hull Wire Plugs (Backwards Compatible)

Lowrance® Ready

Dual Steering

2 H-Rail Mounting Plates

Two-Piece Paddle with On-Hull Storage

8" Twist and Seal Hatch

Sail Mount

MirageDrive 180 with ST Turbo Fins

Vantage ST Seating

Boa® System Lumbar Support

Large Rectangular Hatch with Pivoting Tackle Management System

Retractable Rudder System

Extra Large Covered Bow Hatch with Liner

Fixed Front and Rear Carrying Handles

Horizontal Rod Storage for 6 Rods

Mesh Stowage Pocket

Mid-Ship Handles with Bungee® Tie-Downs

Molded-In Vertical Rod Storage

Rear Cargo Area with Bungee® Tie Downs

Tracking Skeg

2 Plano® Tackle Boxes

New for 2018 are ARC pedal cranks that adjust with the push of a button to accommodate users from child size to tall adults
Mirage Drive 180 System
Vantage Seating
Lowrance Ready System
H -Rail System
Dimensions
Length: 13' 5" / 4.09 m.
Width: 28.5" / 0.72 m.
Weight: 58 lbs. / 26.3 kg.
Fitted Hull Weight: 120.5 lbs./ 55 kg.
Fully Rigged Weight: 145.5 lbs./ 66 kg.
Mirage Drive Weight: 6.6 lbs. / 3 kg.

Manufacturers Weight Capacity: 350 lbs. / 159 kg

Optimum weight capacity may differ - please contact us if you are unsure about the suitability of the Hobie Pro Angler 14 for your weight
Recommended Accessories

Hobie Trax Trolley
Features 24 cm (blow-molded polyurethane) pneumatic tires. These tires have a high capacity and are very durable! This is the best all around cart for soft sand and uneven terrain. The tires are wide and can be deflated for better performance over softer sand and soil.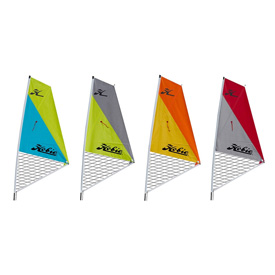 Hobie Sail Kit
Add sail power to Hobie Mirage Kayaks! (Fits all current models of Hobie Mirage Kayaks). Sail with ease maintaining excellent speed with or without pedaling while sailing. Easily pedal out to sail or pedal home when the wind is too light.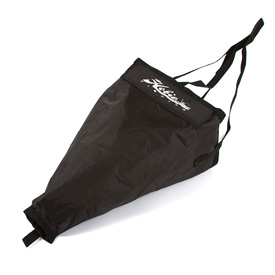 Hobie Drift Chute
Large cone shaped "para" chute deployed in the water slows your drift in windy conditions when anchoring is not possible or desired. Design keeps chute just under the surface and fully inflated. Anchor line not included. (Connect to the Hobie Anchor Trolley System for best results).
Please call us on 02380 861341 if you have any questions about the Hobie Pro Angler 14