Gumotex Alfonso
Inflatable Fishing Boat
The Alfonso allows yourself and a friend to enjoy a day on the water fishing together.
Details
Features
Dimensions
Colours
Accessories
Delivery
Gumotex Alfonso
The Gumotex Alfonso allows yourself and a friend to enjoy a day on the water fishing together. This stable and roomy tandem kayak offers a comfortable platform for trips on calm rivers and lakes with enough storage room for all your gear and catches throughout the day.
Equipped with rod holder fittings you are also able to mount an engine on the transom mount if the traditional paddles and oars aren't for you. An engine up to 3.5 HP can be used on this model.
The Gumotex Alfonso is made from standard Nitrilon making it hard wearing, light weight and easy to dry. The Alfonso can be easily transported, its safety relief valve helps to stop over inflation.
Best of all it can be packed down into the included 130L drybag.
Features/Spec
Transom for motors with fishing rod mounts
Seats made of flat plywood with with PE foam "COMFORT PAD"
Inflatable seat with fishing rod mounts
Floor board
Fishing rod holder CANNON
Rubber ropes for fixation of baggage
Safety ropes on the side tubes
Fastening rope on the bow
Bottle holder
Handles for paddles and oars
Oarlock holder
Push-push valves
Safety relief valve in the bottom of the boat
Repair kit
Transport drybag 135l
Dimensions
Length: 430cm
Width: 125cm
Weight:  34.5kg

Manufacturers Weight Capacity: 410kg

Optimum weight capacity may differ - please contact us if you are unsure about the suitability of the Gumotex Alfonso for your weight

Material: Nitrilon®
Paddle type: Oars
Max. number of persons: 2 person
Air chambers: 3+2
Packed dimension: 68 × 55 × 30cm
Max. operation pressure: 0,02 / 0,2 / 3,0 (Mpa / Bar / PSI)
Box  dimensions: 71 x 61 x 36cm
Engine mount: Yes
Recommended Accessories

Bravo 5L Foot Pump
5L foot pump with universal fittings, not only can you inflate your canoe but it can be used for inflating air beds etc...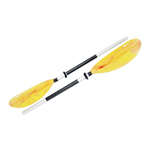 Riot Distance 2 Piece Paddle
The Standard 2-piece Split Paddle is an ideal paddle for use with inflatable kayaks. It is constructed using an aluminium shaft which is split into two halves.
Price Call Us For Price
Call for Price and Ordering
Please call us on 02380 861341 if you have any questions about the Gumotex Alfonso