First Aid Kits
First aid kits for kayaking, canoeing and all other outdoor activities.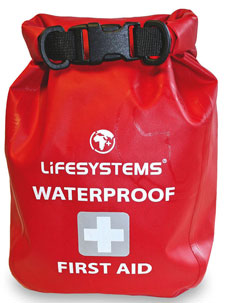 Lifesystems Waterproof First Aid Kit
Made from tough, waterproof material, the Waterproof First Aid Kit contains enough equipment for injuries typically sustained from water sports, as well as general outdoor activities. Ideal for canoeing, kayaking and rafting expeditions.
Durable Ripstop Cases:
The iconic red cases are synonymous with Lifesystems. Each pack incorporates the use of hard wearing ripstop fabrics and waterproof zips which provide that extra level of durability and protection. The smaller packs feature belt loop attachments and the larger versions have grab handles and outer pockets with reflective strips.
General
1 x Primary Care Leaflet
6 x Safety Pins
1 x Resuscitation Face Shield
1 x Scissors (5.5cm Blade)
1 x Spot Check Thermometer
1 x Tweezers
2 Pairs Vinyl Gloves
Medication
Bandages
1 x Crepe Bandage 5cm x 4.5m
1 x Triangular Calico Bandage 90 x 127cm
1 x Open Woven Bandage 7.5cm x 5m
Preparations, Disposables & Tapes
5 x 4-Ply Sterile Gauze Swabs 5 x 5cm
1 x Micropore Tape 1.25cm x 5m
6 x Hygienic Cleansing Wipes
1 x Burn Gel Sachet (3.5g)
Dressings
1 x Pack of Assorted Plasters
2 x Blister Plasters
2 x Low Adherent Dressings 5 x 5cm
1 x Medium Wound Dressing 12 x 12cm
1 x Small Plaster Fabric Strip 4cm x 1m
All contents are manufactured to European quality standards and carry the CE mark.