Feelfree Corona
3 seater sit on top kayak
Tandem Sit On Top kayak with a third seat in the middle for a smaller paddler.
Boat Only: £519.00 (RRP £569.00 - Saving £50.00)
Standard Package: £629.00 (RRP £728.80 - Saving £99.80)
Deluxe Package: £709.00 (RRP £818.80 - Saving £109.80)
Details
Features
Dimensions
Packages
Colours
Kit
Delivery
Feelfree Corona
The Feelfree Corona has three seating positions making it a perfect Sit On Top kayak for family paddling and in our opinion it's the best family kayak on the market.
The Corona has a stable hull and is designed for kayaking along coastlines, lakes, calm rivers, estuaries and canals.
The Feelfree Corona features a wheel in its keel for easy portaging along firm ground. The wheel in the keel is designed for use on hard surfaces. It makes moving the Corona on slipways and from the garage to the driveway easier. The wheel isn't designed for use on rough ground or sand, you will have to carry the kayak or use a trolley instead. In order to prolong the life of the wheel's axle you will need to occasionally wash off dirt and salt water.
Other features on the Feelfree Corona two flush mounted rod holders, 2 hatches, 2 paddle parks and moulded carry handles.
Features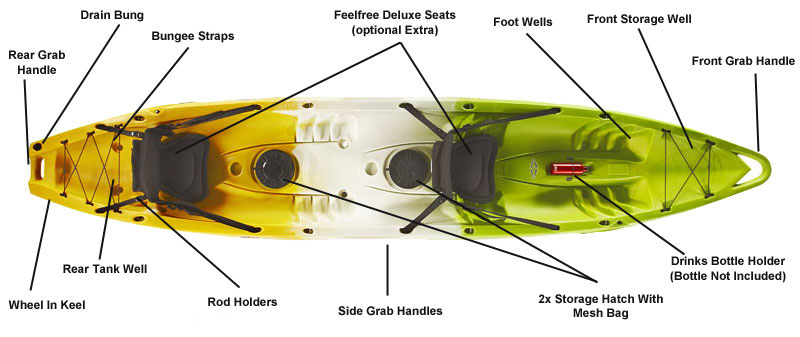 Wheel in the keel.
Moulded-in carry handles.
Drinks bottle holder.
Drain Plug.
2x storage hatches with mesh bags.
Rear Storage Well with bungee straps.
2x Flush mounted rod holders.
Paddle parks.
Moulded foot wells.
Recess holes to fit fishing rod holders.
Dimensions
Length 13' 2" / 403cm.
Width 33" / 86cm.
Weight 68lbs / 36kg.

Manufacturers Weight Capacity: 617lbs / 280kg

Optimum weight capacity may differ - please contact us if you are unsure about the suitability of the Feelfree Corona for your weight
Packages
Feelfree Corona - Boat Only
Boat Only Price: £519.00 (RRP £569.00 - Saving £50.00)
Feelfree Corona - Standard Package
Contents:
Feelfree Corona
2 Feelfree Canvas Seat
2 Feelfree Day Tourer Alloy Paddles
Standard Package Price: £629.00 (RRP £728.80 - Saving £99.80)
Colours
Blue/White/Blue (Saphire)
Red/Yellow/Red
(Lava)
Lime/White/Orange
(Tropical)
Lime/White/Yellow
(Melon)
Blue Sky
Please call us on 02380 861341 if you have any questions about the Feelfree Corona