VHF Radios & Personal Location Beacons
Radios and location beacons for communications on the water.
McMurdo Fast Find 220 PLB
The FAST FIND 220 is small and light enough for you to carry on your person at all times. Using advanced technology, the FAST FIND 220 transmits a unique ID and your current GPS co-ordinates via the COSPAS-SARSAT global search and rescue satellite network, alerting the rescue services within minutes. Once within the area, the search and rescue services can quickly home in on your location using the unit's 121.5Mhz homing beacon and flashing LED SOS light.
The compact FAST FIND 220 is quick and easy to activate, with a safe stow antenna which automatically deploys when the unit is activated. The battery enables it to operate continuously for a minimum of 24 hours. Waterproof to a depth of 10m, the FAST FIND 220 is also supplied with a flotation pouch, for easy retrieval.
406/121.5MHz PLB
Easy to operate
Does not require a subscription
High brightness LED SOS light
Minimum 24hr battery life on continuous operation
6 year battery storage life
Self test facility with battery use indicator
Supplied with flotation pouch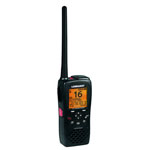 Lowrance Link-2 VHF / GPS
Link-2 is a feature-rich, free-floating handheld VHF radio that is Class D DSC compliant and features Man Over Board functionality and storage for up to 300 waypoints. It is ideal for everyday use or convenient storage in an emergency kit.
The Link-2 is full Class-D DSC enabled VHF. This marine radio has digital selective calling (DSC) capacity - you'll never miss a DSC call.
128 x 128 pixel LCD with adjustable contrast settings and backlighting, and prominent channel display
Includes a choice of high or low (5W to 1W) transmission power
"Get Buddy" feature transmits the radio's position by push of a button, allowing buddies to receive bearing and distance data from other Link-2 units
Latitude, longitude and time display
A distress call button with hinged door