Viking Kayaks
One of the leading manufacturers of Fishing Kayaks - Made in New Zealand
Contact us for full information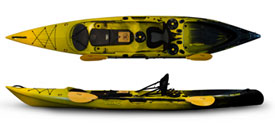 The Reload is designed for paddles in mind that are looking for a high performance model. The hull tracks well and allows the kayak to glide through the water effortlessly. Its low centre of gravity seating position offers excellent stability easy to manage on and off the water. This is the kayak of choice for anglers seeking touring endurance combined with the stability to land record class fish!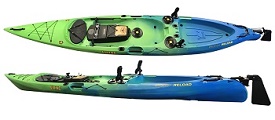 The Profish Reload Railblaza Edition combines the very best hull features of the Profish 400 lite and the Profish 440. Add the innovative new features, a viking rudder system and some of the best Railblaza accessories available and it provides the kayak angler with one of the finest top spec fishing kayak on the market today.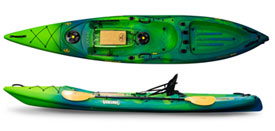 The Viking Profish 400 is a lightweight fishing kayak that doesn't compromise stability, even for larger paddlers, or those looking to load up with plenty of gear. Creating a kayak which is easily handled and provides high performance on flat and choppy waters.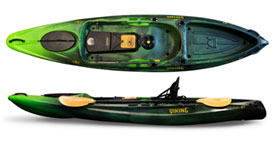 The Profish GT is a compact, lightweight and incredibility manoeuvrable fishing kayak weighing only 24kg. This makes the GT easy to store and handle off and on the water without compromising on its stability and load capacity of 175kg. Appealing to river and sea anglers looking for a dry ride and  There for those that are looking at having a bit of fun and messing around in the waves.